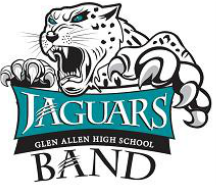 The Glen Allen Band Boosters are proud to welcome...
The President's Own - U.S. Marine Corps Band - LIVE in concert!!

Sunday, October 30, 3:00PM in the GAHS Auditorium
​(Doors open at 2:15PM)
​This concert is free and open to the public, but tickets are required for entry. Tickets are available by visiting the concert ticket site
HERE
.

Dates to Remember
(Morning Rehearsals continue starting each day at 7:15AM)

Friday, October 21st - Marching Band performance during the Homecoming Football Game
Call time: 5:50pm / Dressed by 6:15pm
If rainy, students need to be prepared to march in their "Game Over" t-shirt and jeans.

Plan B is to have brass/percussion do the National Anthem only. Students will be advised of the plan as it

develops.

Monday, October 24th - GAHS Band & Orchestra Boosters Spirit Night Double Yum Event
​at Staples Mill Plaza Shopping Center
Spirit Night at Firehouse Subs (Boosters will receive a portion of all sales from 5-8pm)
AND
Spirit Night at Sweet Frog (From 5pm until close mention GAHS Band & Orchestra Boosters at checkout and they will donate a portion of the proceeds to the Boosters)
Monday, October 24th - Monthly Band & Orchestra Boosters Meeting, 7-8pm in the band room
We will have information about The President's Own US Marine Corps Band Concert, the music clinics with the Marine Band, a fundraising update, and much more! (Credit cards will be accepted for the "no sales" fundraiser, too!)

Volunteer to Chaperone or work the Pit Crew for Fall Marching Band events.
​Click HERE to access the Volunteer Signup Page.
---